Dr. Christoph v. Gamm
Owner of vonGammCom Global Cybertrue Capital Services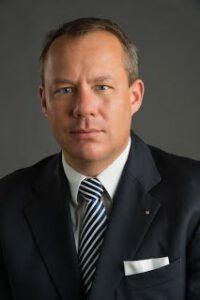 Dr. Christoph von Gamm is working as Entrepreneur, Investor and Business Angel in the intersection between business, culture and technology. He is recognised as an innovative, entrepreneurial and strategy driven senior business development and operational leader with over 20 years of global and pan-European experience that includes successfully turning around performance of large organisations, establishing key functions from scratch, and pioneering major global outsourcing initiatives. Track record transforming country teams into integrated global matrix units and closing high profile, multi-million dollar deals.
Dr. von Gamm's key focus is on multiplying value in a digital transformation and leveraging this change for his clients in the new digital world.
Business Credentials
CEO, vonGammCom Dr. Global Christoph v. Gamm (2012- now): Strategy Consulting and Executive Search Engagements, 2015: Founding of Business Line Cybertrue Capital Services: Investments and Deals
Member of the Management Board Capgemini Suisse S.A. (2008-2012)
Head of the Board of Trustees of a Pension Fund
Member of the EMEA Management Team IBM Corporation (1995-2008) in various international sales, marketing and corporate communications roles.
Academic Credentials
Dr. phil. / PhD from Europa-Universität Viadrina Frankfurt (Oder) in Intercultural Business Sciences
Dipl.-Ing. Univ. / MSc. degree of Electrical and Information Engineering at TU Munich,
MBA at the Open University Business School in Milton Keynes,
Client Unit Executive Certification at INSEAD Fontainebleau,
MA Master of Sales Management at Portsmouth University
Key Capabilities
Business Development
Outsourcing Strategies
Operational Management
Sales Management
Strategic Planning
Change Management
Corporate Strategy
Digital Transformation
Profit & Loss
Organisational Restructuring
Client Relations
Strategic Partnerships
IT Management
Contract Negotiations
Revenue Growth
Cross-Cultural Team Leadership
Financial Services
Telecommunications
Public Sector