Sales Leadership Services – SLS
«
Obstacles are necessary for success because in selling, as in all careers of importance, victory comes only after many struggles and countless defeats.
…» –
Og Mandino
What is the value of a sales leader?
How to let your team perform better in the Age of Digital Transformation
In the age of Digital Transformation, nothing stays as it was – clients change, markets change, sales expectations change – except one thing that stays: the need for profitable revenues. It's an exciting and challenging time to be – or anticipate being – a sales manager!
Sales Managers build a bridge between companies and act as ambassadors of success. And they play rapidly changing, pivotal, multifaceted roles in planning, organizing, managing, directing, and controlling the sales departments of their organizations. The sales manager's responsibility for managing the sales force and its interface with prospects, customers, and various stakeholders – both internal and external – is possibly the most crucial of all functions in terms of determining the firm's success.
What is the value of a sales leader?
Sell more – Make more profits – With less Effort – Work as a sales team
Unlike all other corporate functions, who are mostly taking care of cost issues, a sales manager takes care about the revenue – the main source of income for a company. But how this work? Salespeople are often occupied half of the time with the wrong things – but which half is the right one? And: why don't they work as a team?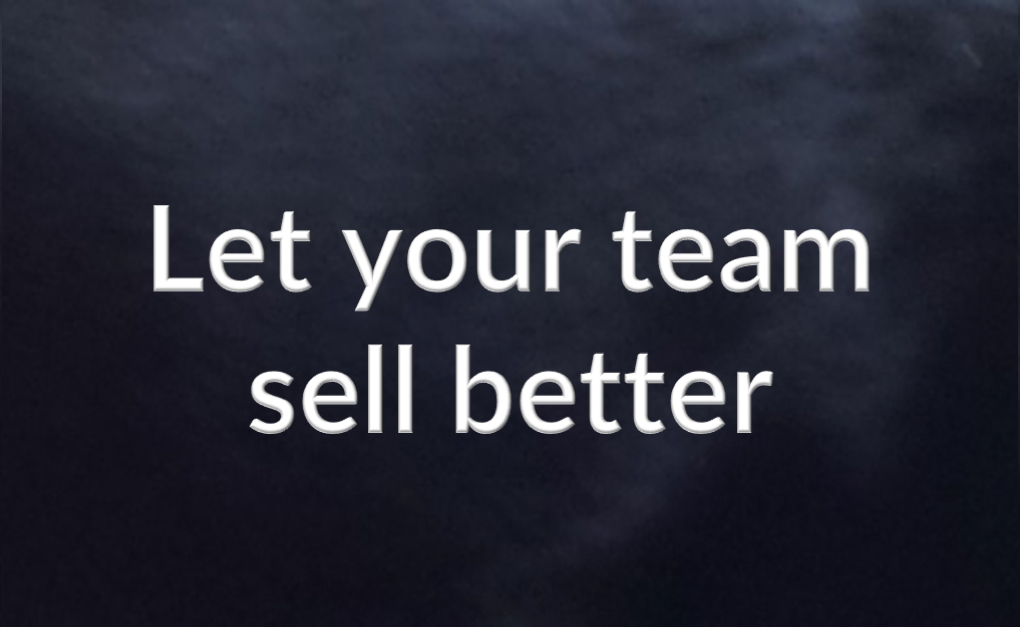 Managing Sales – Building a Bridge
The effectiveness of your organization's sales effort is not only based on initiating new behaviors, but also on reinforcing and sustaining these behaviors over time. Your sales leaders understanding and the adoption of key methodologies will be your way to success. The ability to teach and coach these methodologies to the sales teams is a part of this process. These offered Sales Leadership Services will provide the tools and the required motivation to achieve your goals. The initial contact between one company – a buyer – and the other – a prospective supplier – happens through a sale. This is why management of sales organisations pivotally determines the whole enterprise success.
Sales managers will not find a comfort zone in their past knowledge, experience or success. By establishing a continuous learning environment for themselves and their salespeople, sales managers keep pace with extraordinary changes. There will be closer interaction of marketing and sales activities – and with our sales leadership consulting engagement we make sure this bridge is established. Sales managers will require a greater knowledge of strategic marketing functions. A growing task of the marketing team is to include selling and sales management perspectives in their planning efforts.. The most successful sales leaders will develop and apply marketing concepts, strategic planning concepts, financial analysis techniques, motivation and leadership skills, effective communication methods, interpersonal capabilities, and the latest information technology applications. That's why our vonGammCom Global strategic Sales Leadership approach is focused on exactly these matters and will help current and future sales managers to perform their duties much more effectively and efficiently.
Key Modules in Sales Leadership Consulting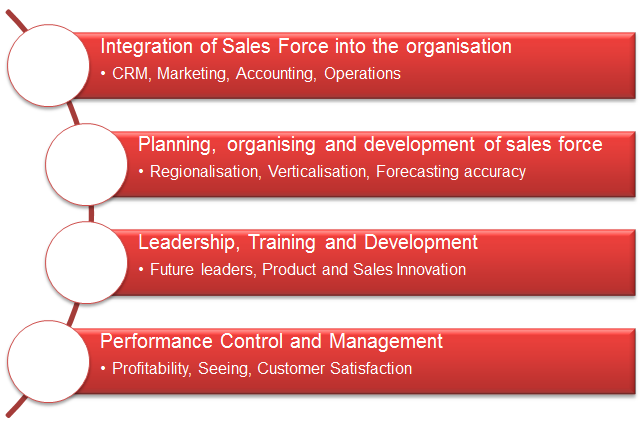 Module 1: The overall integration of personal selling and sales management. We cover the eclectic, expanding rôle of professional sales managers who have to be respected members of the go-to-market management team and need to assume a long-run, strategic perspective for their organisation. Here, we look at points like stakeholder management, the way customers are being treated, and how CRM does play a rôle in your overall business management practice. Last but not least, we also investigate, how your business partner landscape looks like and where there are strategic gaps that should be replenished.
Module 2: The planning, organising and developing of the sales force is the main part of this focus module. We look at sales forecasting and budgeting, because the sales forecast is a key determinant of success for your overall business planning, including sales and marketing planning, production scheduling, capital investment, resource planning, inventory management and overall budgeting. For sales managers, planning is a MUST, because it creates the essential framework for all other sales decision making. The value of a sales manager is only as good as his accuracy of forecasting, a saying goes. And therefore the value of sales management information systems for strategic planning purposes will be investigated and worked with you as a client in order to make it better for you. Here, we also look at territory management, because the sales plan and the territory plan need to be closely interlinked in order to generate success.
Module 3: This module covers the directing and leadership of sales force efforts, including training and development – we are convinced that it is the sales leader who must be overall in charge of training and development for his team and not a remote HR or training department – this can only be of auxiliary support. This includes continuous training and retraining, and with executive training, the overall leadership of the sales force goes hand in hand. There is an essential difference between leadership and management – and our mission is to develop leaders – not managers. We also investigate with you your communication styles – both verbal, written and nonverbal – and the impact towards your sales teams' behaviour out in the field – when they are alone with clients! We are convinced, that blanket approaches to motivation are rather ineffective and therefore we suggest to spend time and effort towards a tailored approach – towards the individual sales manager and sales representative – people are different.
Module 4: This key module is about performance control and management. Both,performance and management do have a direct impact on sales volume, costs and profitability. This consulting module stands for investigating the value of collaboration between sales, marketing and accounting. We especially also put an eye on actual performance and its predictor of success for future performance. Last but not least, we focus here on customer satisfaction and its correlation towards future profitability. We believe that there can be both a "too much" of customer satisfaction as well as a "too little", so we work with you on tuning the customer satisfaction towards the right level.
Pipeline Management: Forecasting is amongst the biggest arts in sales. Many sales leaders have not been fired for poor performance but for erratic sales accuracy, in general. And this is why vonGammCom Global offers a Sales Forecasting Service that allows you to have a sales success measurement based upon facts and not fiction. By using advanced pipelining tools that are still easy to implement you know from an early moment on where your sales pipeline will be heading and where your numbers will be going to. It will help you to focus on the right sales situations, assign the right resources in pre-sales and delivery and thus know early in advance how a project is likely to develop. Never forget: Pipeline management is a leadership discipline that cannot be delegated!
Sales Relationship Management
Sales itself has become "a boundary-spanning rôle" and a key rôle of interpreting the relationship between supplier and customer towards both sides. It is essential to understand the customer's point of view and to reconcile it with the needs of the company for profitable growth. At the same time, salespeople, besides the work as relationship builders, forecasters, planners, people managers and business leaders, are the standard-bearers of a company's reputation. Salespeople are expected to ensure high standards of behaviour, despite all obstacles in the daily sales life. We differentiate between strategic relationships, prospective relationships, tactical relationships and cooperative relationships.

Strategic Relationships – these are relationships where based upon rational customer attractiveness analysis, the client has a strategic value to the supplier and where the client's buying decision-makers believe on the basis of rational supplier performance evaluation believe the supplier can add value to the company and its customers. The relationship itself is then of high quality, with integrated processes and day-to-day interactions. The relationship itself might be value creating, but besides the value creation needs to be tangible from both sides, thus fostering the relationship. Here, account management and strong focus is needed.

Prospective Relationships – relationships that emerge and might become strategic. We are convinced argues that it is imperative for every supplying company to develop prospective relationships as clients often change their buying behaviours, or get merged and bought over time and thus would disappear from the clients' list of the company. The key imperative is to be economic in selecting and working the right prospects. Key tasks involve segmentation, targeting and positioning of each other's companies in order to redirect the efforts to the right place.

Tactical Relationships are having a low-priority purchase from the clients side, adding marginal value to either side. Typical situations of tactical relationships are evident and "one-dimensional" requirements. The key feature of relationship is about the most economical option (i.e. price or price over time) and the minimizing of transactions costs on both sides. Nevertheless, they can be a source of opportunity for the supplier and might provide mutual value with a group of customers that might otherwise lose to competition. In addition, tactical relationships might be a good driver to bring down production costs, and sales here might provide a good contribution to develop lower-cost processes using IT tools and the right set of marketing. It has been proven that those tactical measures then might contribute to strategic relationships as those tactical measures – i.e. catalogue ordering, automated tools – add comfort to a strategic relationship and thus even increase the strategic value there.

Cooperative relationships might just be the opposite of the tactical relationship. The buying company has a real strategic interest to keep the supplier; however, the supplier regards the buyers value as low or medium. An example for an typical cooperative relationship: The supplier provides services for an old or obsolete but often-used piece of equipment that cannot be easily substituted.

vonGammCom Global helps you define the right go-to-market approach for every segment of your clientele.
Sales Performance Management
Sales performance measurement is at least as difficult as selling itself. There is a huge impact of transformational and transactional leader behaviours which affect the performance of sales personnel.
vonGammCom therefore emphasizes the importance of an environment in which employees feel trusted and empowered to make decisions and focuses on learning. In essence, we think that the purpose of performing in customer relationship environments is to measure "leading" indicators and use Kaplan and Norton's balanced scorecard instead of focusing on "trailing" indicators such as revenues and bookings.

Lastly, the performance measurement is important to influence and validate the decision making. The five categories to be noted are given below:
A hard ROI approach – that shows return on investment models which seek to deliver actual cash benefits to the company. It is important to consider cost savings, revenue generation opportunities, or expense to revenue models.

Intangible benefits and assets – Software benefits or intangible assets are identified and quantified. Examples might be brand equity or knowledge capital. Despite a largely outspoken knowledge culture, this model is rarely used and can reap the biggest benefits.

Competitive assessments – This approach primarily measures how competitors do work with clients and whether the company's approach is at or above par to completion. In many companies, competitive assessment models are only utilized in a spotty way, however, a strong management focus on market share makes a difference.

Value driven – The economic value delivered or derived of a client is measured. This also involves building a model of customer value exchange. This model is used heavily to calculate deals over the duration of the deal.

Instinct and experience – This approach uses manager's individual experience and intuitions. It seems like many companies are using this model for an overall business steering approach. However, this instinct and experienced based model is often becoming hermeneutic. Because of its experienced based assumption, it precludes experiences coming from different sources of consideration.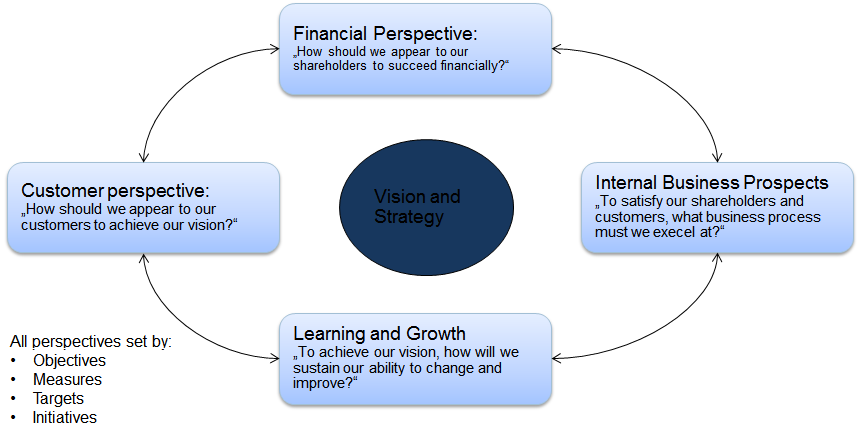 Measuring Sales Success Through Balanced Scorecards
Balanced scorecards can become highly industry-specific and company specific. The key challenge for implementing balanced scorecards is less the development of the metrics on a top line, but the un-bureaucratic and yet constant and timely collection of the data needed throughout the organisation in order to keep the metrics up-to-date. The implementations of a balanced scorecard – despite being debated in corporates since years is still spotty. By own experience, the mandate for implementing a balanced scorecard is being given the controlling department, part of the CFO function.
As a result, balanced scorecards still are heavily financial-perspective-weighted, whereas the other perspectives, such as the customer perspective and especially the innovation and learning perspective are often viewed as a "nice-to-have" view, which in result is a good recipe for failure of such a project. We better suggest to implement balanced scorecards in conjunction with sales management experts.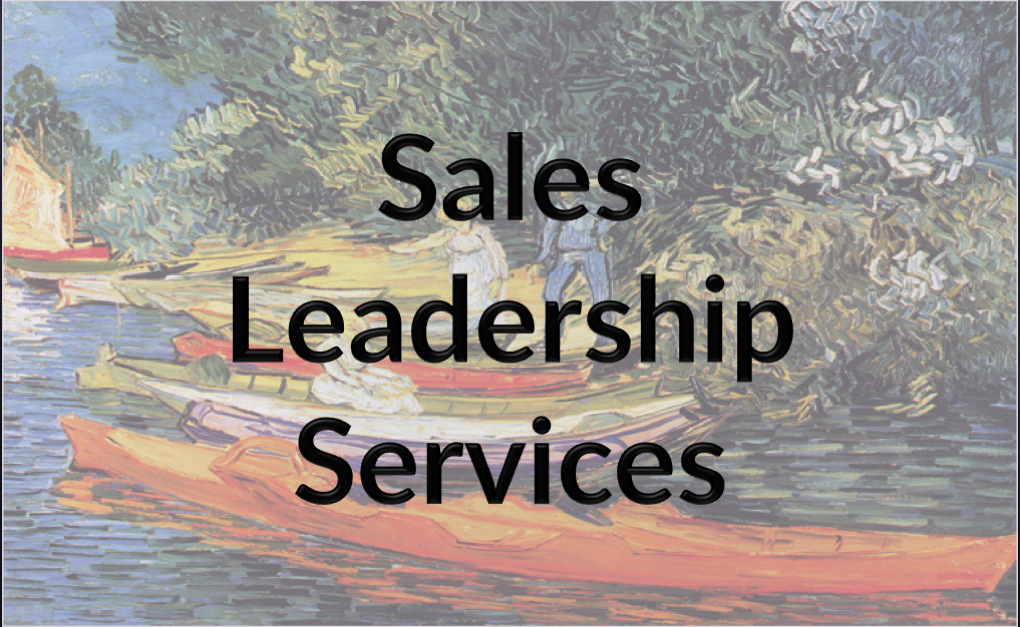 The vonGammCom Global differentiators – Experience and Execution
The difference first and foremost difference: vonGammCom Global is equipped with a broad and deep experience in the area of Information Technology, High-Tech, Telecoms and IT for Banking. This is where we have credentials and where we are convinced to add value.
The second and equally important differentiator is the vonGammCom Global focus on execution. We transfer the knowledge on how to execute back to you as a client after working out the strategy.
The Five Step Methodology – TFSM® – The vonGammCom Winning Formula for Your Sales Success
Sales forces and armies or duke fiefdoms have many things in common. Depending upon your situation, we use approaches that rather reflect a farming approach, a hunting and conquest approach or a silent viral approach. There is no recipe that fits all – this is why we work together with you on strategy, first and then on the sales organisational approach.
What the vonGammCom Global Institute for Change does is to provide a proven Five-Step Methodology to redefine and implement a new growth strategy by investigating into your sales management structure and people situation and coach on the ongoing implementation:

Step 1: What do you like to achieve? Here, we start out with our joint Initial Client briefing. We want to understand your strategic ambitions for the present and the future. Sales Leadership is always tightly connected with a strategy and your selling- ambitions for the present and for the future. Hence, a sales organisation has to be adjusted to sell for the future and make revenues today.

Step 2: How is the environment? How is your sales organisation embedded into marketing, pre-sales, support and the operational execution force? We assess together with you and your team the current organisation and the goal you would like to achieve. We perform as assessment of the organizational goal, develop and establish sales force objectives. Is it moderate growth and stabilisation? Is it hyper-growth and an expansion of new markets? Do you want to go global or do you have a special local niche? We cannot promise wonders, we better watch out together with you a clear focus on realism.

Step 3: How fast do you need results? Next, we prepare options of growth. Here, we develop a sales force strategy, plans and associated structure. We focus on presenting you options you can choose from and see the differences in financial impact. Typically, you cannot "boil the ocean", so you have to focus. Amongst a set of programmes we choose together with you the ones that are the most rent generating for your success – depending upon your goals – short term (this quarter), – mid-term (one year) or long-term (three to five years).
Step 4: Enacting the change – we will remove the obstacles together with you and enforce a new behaviour by moving people to foster the driving forces. Hunters or Farmers? How do we set targets? Then, together with you we change management and structure. In order to do so, we recruit and select salespeople and help you train and develop them. A strategy only lives from execution. And depending upon the strategy, you might need different set of people – "hunters" who find new clients and big deals – or "farmers" – who generate you a profitable ground within an existing territory. Or you have an entire field force that needs the right structure between hunters, farmers and new business entrepreneurs. The target setting is amongst the most perennial points in determining the effectiveness of a sales organisation – your expense to revenue ratio (E/R) will determine your competitiveness as well as your solidity of results. Therefore, we will tailor the right target mix (Fixed salary, Bonus element composition) which is the most suitable (Überbegriff für target mix, auf sich das suitable beziehen soll) to get your business strategy transformed into profitable results.
Step 5: We provide ongoing coaching and adjustment by supervising the sales team and evaluating the overall performance of the sales people. Usually, even an excellent sales leader needs some outside reflection and coaching once in awhile.
This method has been developed in adjunction to the Marketing and Sales Standards Setting Board MSSSB and has been widely successful in providing a structured approach in Sales Management.
Fees and Compensation method
On this engagement, we do charge clients by sales volume covered and on the initial effort on an individual contract base.
With this service offered, Dr. Christoph v. Gamm performs an organisational setup analysis and provides recommendations for the right compositions of sales and business development teams especially of IT and High Tech companies. However, we are also brave enough to go to financial services businesses. Using a structured market-based approach, Dr. von Gamm increases the overall productivity of the sales organisation and reduces expense to revenue and expense to booking ratios significantly, again Sales becomes the pivotal rainmaking service it is destined to be.

Thanks to his yearlong experience in various companies as well as his certification as Master of Sales Management from University of Portsmouth and Certified Client Unit Executive from INSEAD Fontainebleau, Dr. von Gamm can provide the ideal combination of theory and practice.
Articles we do recommend
Sales Leadership Video
Client Brochure